8 Simple steps to protect your car's Paintings.
Hello everyone, the No.1 Car Paint Repair in Dubai – Boby auto is back to you with yet another blog – 8 Simple steps to protect your car's Paintings.
There is a quote among men, " A clean car says a lot about you". So, be proud of owning a clean car everyone admires.  And here goes the role of paints that have a vital role in making your car feel pretty clean and tidy.
While at the time of production itself, the manufacturers imply the most advanced car painting technologies in your car. Factory level painting is done at maximum possible perfectness. And that type of painting should be appreciated. A new paint job on your car causes a huge expense. These secondary paintings obviously reduce the market value of every car. Also, out-of-factory paintings cannot reach the most perfectness unless you need to visit a highly professional team such as in Boby Autos.
With certain tips and the right care, one can make the car paints shine brighter years longer. Also, we can check out simple mistakes done by the owner causing damages to paint.
1. Car Cover
Using a car cover is one of the simplest and most economical ways that one can begin with protecting your car. Every time you park your car outside the garage like an open garage, open area or have to park on the street, it is better to cover the car with Car cover, made up of cotton or nylon. 
A car cover is the most perfect method to protect your car from alien elements that destroy once the car's finish. Keeping your car too long under direct exposure to the sun at an open place can permanently destroy the shining of the painting. Also, the dust particles and other elements such as pollens can cause the dullness of the painting.
If your car is passing through such conditions, reach out to the nearest Car Paint Repair Dubai where you can polish, buff or wax in order to retain the old shining of the car.
2. Wash Your Car
The main and most important part of car care is to wash them regularly – on a weekly basis. The washing should be done with the recommended car shampoo.
The bird droppings containing acidic matters can decay down the paintings. So make sure to clean them immediately with water.
Car washing should also be done with great care otherwise it can cause adverse effects very much. Using household detergents can be a great danger to your car because of its acidic values. 
The power of water sprayers should be maintained in medium power so as to reduce the wear and tear of painting; which later causes the reduction of shining and destruction of the outer layer. 
Also, make sure that the clothes and sponges one should use are absent of heavy fibers that make minor scratches to the surface of paintings.
3. Don't Skip Drying
After shampooing and cleaning the car, the majority of people think that their car will dry naturally. But this process does more damage to the car. Letting the car to dry itself leaves water spots that render the whole work into waste. 
One should use a microfiber towel or a weave drying towel to absorb the water without any water spot.
4. Use Clay Bar
By using a clay bar, the unseen contaminations, and microelements that stuck on the surface of paintings and dashboards.
These clay bars are most commonly used in effectively removing the smallest dust particles hidden to naked eyes. Clay bars are most commonly applied for applying wax polished in order to sustain cleanliness. 
5. Car Waxing
A good car waxing can withstand 8 – 10 months in a  car. Waxing protects the paint of the car from external elements like UV Rays, Scratches, Dust, contaminants, etc. For a better experience, waxing your car in a 6-month interval makes more shining and new car feelings.
Using a higher standard and branded new car wax provides better protection to car paint. This wax also reduces the drag with air and hence more fuel efficiency.
6. Paint Protection Film
Paint Protection Film is a clear and transparent film less than 3 mm thick applied to the body of the car. This thin film is resistant to heat, UV rays, dust, tar, bird droppings, etc. The paint protection film is highly recommended to protect the paints from certain external elements.
The main drawback is that these films are highly expensive but it lasts about 4 – 5 years on average. These films are most commonly applied on the most wear and tear part of the car body such as on the rear and front bumper and the bases of cars.
7. Clear-Coat Protector
Clearcoat protectors provide a high glittering and glossy finish to the car making it shiny all time. Clear-Coat also protects the inner paint for external factors as mentioned above. Clear coats are multi-purpose and high-value providers that should be maintained at annual intervals.
These clear coat protections are provided by most of the car manufacturers at the stage if the production itself. But, it's good to have a second coating beside them for more actionable performance.
8. Vinyl Wraps
Vinyl wraps are the new trends that cost only half the rate of painting. It also provides higher standards of eye appealings. They offer a wide variety of colors in different shades that gives a newer perspective to your car.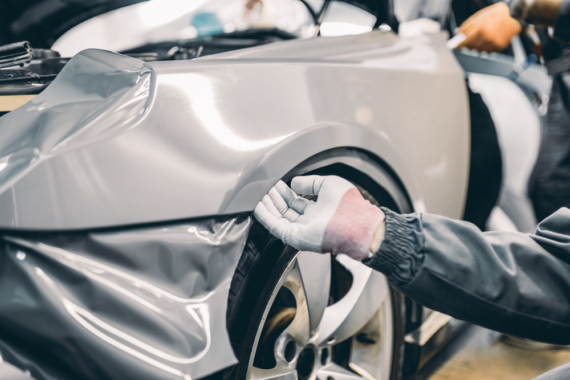 Vinyl wraps are a better and hybrid option that also works as a shield for original paint and won't let it go dull. These vinyl wraps are thick enough to sustain minor scratches and it absorbs the UV rays and protects the inner paintings. Vinyl wraps are worth investing since even the gum recedes won't affect the inner paintings.
In the end, all these points solely depend on person to person and it's your choice to protect the painting of your car. If any other external factors affect the painting of your car, such as an accident or scratch from materials, reach out to Boby Auto, the No.1 Car Paint Repair Dubai where you can check out your whole car by professional & expert auto mechanics.